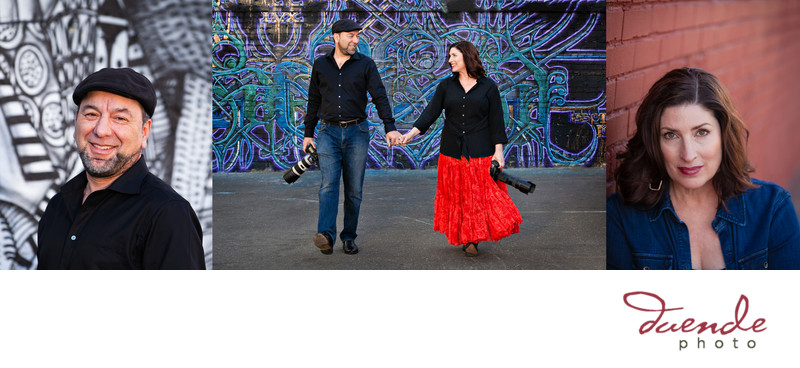 Hello & Welcome!
We're Ken Mendoza and Brady Thomas; an award winning husband/wife wedding photography team based in the San Francisco Bay Area. We happily photograph weddings, events, and portraits. Anywhere you want us to go.
Ken's been a shutterbug for many (many) years. He won a few national awards for his high school journalism images, adding a love of landscape photography while attending an urban youth program in Yosemite National Park. Fast forward several decades after shelving his camera to raise a family & pursue 'more sensible' IT careers, he picked up a Canon digital camera for our trip to Paris in 2002. A Nikon was found for Brady, who comes from a long line of photographers, portrait painters & architects… the composition & light made sense, Ken just needed to show her how the camera worked, and we were off! We were asked to photograph a friend's wedding in 2005, then a few more… and both quit our day jobs as soon as we could. In 2007, we married in Yosemite, one of our favorite places on earth and where we still frequently photograph weddings. www.yosemiteweddingphotographers.com.
We LOVE what we do, and we've heard many times over that our enthusiasm is infectious. Whether an elopement of two or a gathering of hundreds, a wedding is such a momentous occasion, and we genuinely enjoy the day with you. Our hearts are set on reflecting your love, your families, the venue, and the celebration in our images. We'll talk with you at length before the wedding to ensure that we see your vision & what you want captured in memory, as well as share our insights.
We use state of the art cameras and lenses, and multiple lighting techniques to capture all the events of your wedding day in beautiful light. Ken has added Sony to his Canon gear, capturing astonishing photographs. Brady remains a Nikon shooter, producing beautiful, thoughtful images with a completely different look. We have little Canon vs. Nikon wars for you ;) The combination of perspectives results in a wonderful variety of photographs for your wedding collection, full of fun candids, romantic couple portraits, timeless group photos, sweeping wedding landscapes, and inviting details.
Our destination weddings have taken us from always stunning San Francisco to the romantic vineyards of California's wine country, to Northern California's ancient redwood forests, to the beautiful beaches of Santa Cruz, Malibu and San Diego, to spectacular Yosemite Valley. We do not charge for travel anywhere in California, and we're available for travel worldwide.
Our name…
We adore Spanish music; Ken plays a little Flamenco guitar, and Brady was born in Barcelona. On our first date at a tapas bar in San Francisco, we got to talking about "Duende". Translations are many and elusive… it means roughly the passionate zone that artists & musicians get into when they are in perfect, rhythmic harmony with each other, and with their art.
Years later, it seemed a fitting name for our business.
Come tell us YOUR story in our lovely in-home studio, enjoy a glass of bubbly & meet our darling studio cats Samba & Bokeh, and let us put the perfect wedding photography package together for you!